San Diego's Best Places for Family Photos
So you have decided to finally update your family photo! Great news! The hardest part is usually picking out outfits that look cohesive and everyone is happy to wear (I've tackled this topic here) but the next decision is where to get your pictures taken?
Fortunately San Diego isn't short of beautiful spots! And there is an amazing variety of scenery around. Most of my clients request the beach. You just can't beat the white sand, the blue water, and the amazing sunsets that we get here in San Diego. But if sand isn't your thing then there are open fields, woodsy locations, and fun urban settings everywhere! Here are some of my favorite spots around San Diego to photograph families.
Windansea Beach, La Jolla
Definitely one of my favorite places in San Diego! The gorgeous rocks that overlook the ocean make for some amazing scenery for your family photo.
Scripps Pier, La Jolla
Getting a coveted family shot under the pier is always a must at this La Jolla beach.
Terramar Beach, Carlsbad
The perfect low tide beach! Terramar is backed by gorgeous cliffs that make a beautiful backdrop for your photos. I recommend photographing at this beach during a negative tide as much of the sand gets swallowed up at higher tides. There are even some lovely rockpools that are accessible when the water is low enough.
South Ponto Beach, Carlsbad
A little further north than some of my other photography locations but worth the drive! The rocky jetty is a wonderful place to take photos and you can't beat the ocean backdrop!
Oceanside Pier
This is my go-to spot for a pier in North San Diego/Oceanside. It's a beautiful beach and is perfect for low tide beach sessions due to its sheer size and super-flat ground. If you are looking to capture those beautiful reflections in the sand as your family walks down the beach, this is the spot!
Coronado Beach, Coronado
Located in the very south of San Diego, Coronado Beach is one of the best beaches in San Diego! With white sand and gorgeous dunes, what's not to love? Plus having the Hotel Del Coronado in the background makes this one of my favorite places to shoot.
Crystal Pier, Pacific Beach
With the sun shining through the wooden pier, Crystal Pier in Pacific Beach makes a gorgeous backdrop to any photo shoot. There is plenty of shade on bright, sunny days, and the huge beach is perfect for when the tide is really high. While it is a very popular beach with locals and tourists alike, it's still big enough to avoid large crowds.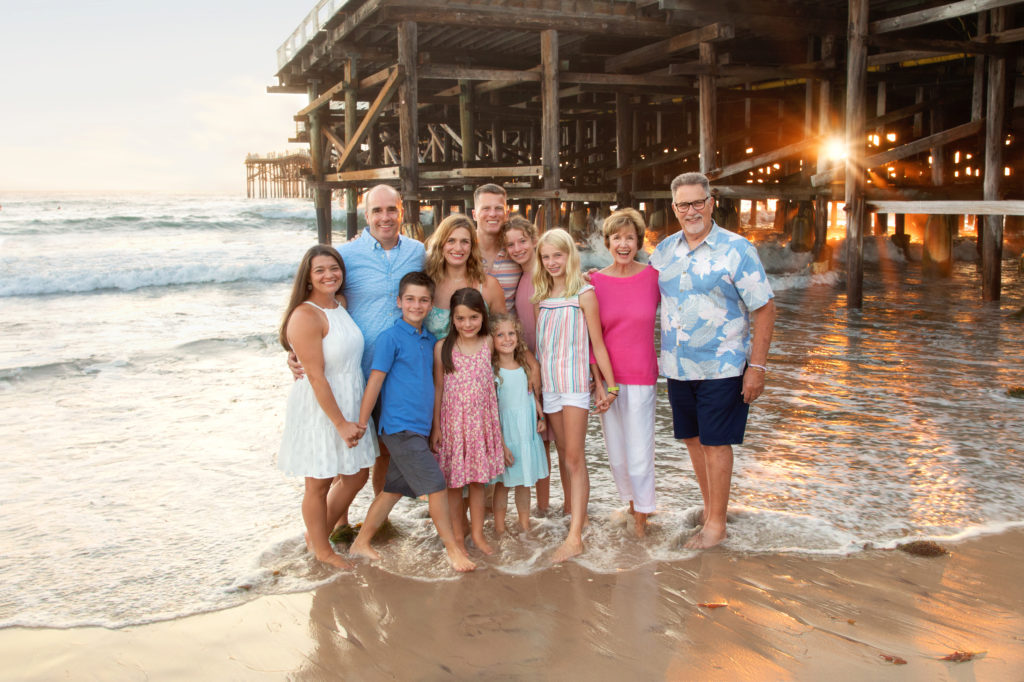 Olivenhain Town Hall, Encinitas
If you're looking to add a little rustic touch to your family photos, Olivenhain Town Hall might be the place for you! It's a quaint little spot in the middle of Encinitas with some lovely trees and an old wooden town hall that looks great in photos.
Old Poway Park, Poway
Rustic trains, old barns, and beautiful gardens make Old Poway Park a favorite for photographers all over San Diego.
Felicita Park, Escondido
While we are rather lacking in forest areas here in San Diego, Felicita Park in Escondido is about as close as you will get with its beautiful groves of oak trees.
Los Penasquitos Trail
This is definitely one of my favorite trails in San Diego! It has everything from open grassy fields to shady canopies of trees. And with close to 7 miles of trails, there are a lot of photogenic locations to choose from.
Balboa Park, San Diego
This place is a photographer's dream! There are so many amazing photogenica locations that it is hard to know where to start! One top spot is Spreckles Organ Pavillion. Or the amazing fig tree in Palm Canyon. Not to mention the rose gardens, the cactus garden and greenhouse. If you're looking for a variety of scenery for your family portrait, this is the place!
Batiquitos Lagoon, Carlsbad
Another beautiful rustic location, this time in North County. Batiquitos Lagoon is a mixture of pretty trails and eucalyptus trees. It's close to the ocean but is far enough away where it isn't usually affected by the dreaded marine layer that we often get along the San Diego coastline. And when the sun shines through the trees, it's a great place to get some gorgeous shots!